This is the third of five posts on the history of Manchester between 1976 and 1996. Each four year period will be covered by a song from the NME's top 10(/100) tracks of the last 60 years: 'Love Will Tear Us Apart' (1976-1980), 'Blue Monday' (1980-1984), 'There Is A Light That Never Goes Out' (1984-1988), 'She Bangs the Drums' (1988-1992) and 'Wonderwall' (1992-1996).
The Miners Strike had been controversially called without a national ballot by Arthur Scargill, the leader of the NUM. After the 1981 Labour deputy leadership election and the 1983 general election,
this was the be the last great battle between right and left. It's tempting to assume that the government and the police were on the right and the miners and the Labour opposition were on the left. But not all the miners wanted to go on strike and Labour leader Neil Kinnock (from a mining family himself) was left in a difficult position, not wanting to endorse the undemocratic actions of the NUM leadership. At
Agecroft Colliery in Salford, the last in the Manchester area, only 120 out of 900 miners initially went on strike and flying pickets had to be sent from Yorkshire to prevent the men from working. Jim Lord, Agecroft's NUM secretary, said he has wanted to strike but the Lancashire had voted three to two against. As a result he was the victim of a violent intimidation campaign by those who had gone on strike and supported the strike action. James Anderton, the chief constable of Greater Manchester Police, said that mass picketing and street demonstrations were 'acts of terrorism' by an 'industrial mafia.'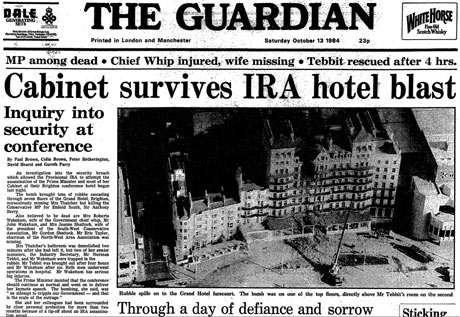 Having sold Ray Wilkins to AC Milan, Manchester United needed someone to pair with Bryan Robson in central midfield. In August 1984, Gordon Strachan was bought from Aberdeen for £500,000. "The rain falls down on a humdrum town - this town has dragged you down..." were the typically cheery opening lines to the Smiths' new single 'William, It Was Really Nothing' released on 24th August (which reached number 17). In the early hours of 12th October, the IRA attempted to assassinate the entire British cabinet at the Grand Hotel in Brighton (which killed five people and injured many more). Margaret Thatcher gave a defiant speech the following day to the Conservative party conference, telling delegates that: "Democracy will prevail!" The Stone Roses played their first gig at the Moonlight Club in London just over a week afterwards, supporting Pete Townshend at an anti-heroin benefit. On 28th January 1985, the Smiths released their haunting 'How Soon Is Now?' with its opening lines: "I am the son and heir of a shyness that is criminally vulgar."
In September 1985, the Stone Roses released their first single 'So Young' which they had recorded at Strawberry Studios in Stockport with Martin Hannett. On 1st October, Neil Kinnock delivered an epic speech to Labour party conference in which he denounced Liverpool City Council's rate-capping rebellion: "I'll tell you what happens with impossible promises. You start with far-fetched resolutions. They are then pickled into rigid dogma, a code, and you go through the years sticking to that, out-dated, misplaced, irrelevant to the real needs, and you end in the grotesque chaos of a Labour council - a Labour council! - hiring taxis to scuttle round a city handing out redundancy notices to its own workers." The speech is seen as a key moment in marking the shift of power from the hard-left to the soft-left within the Labour party. The Militant Tendency who had gained control of Liverpool Labour were later expelled.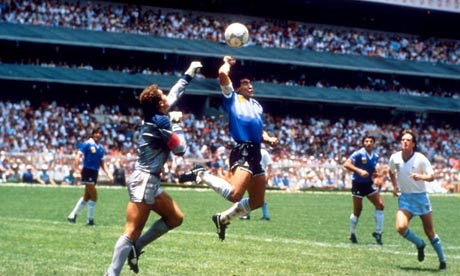 The 1985-86 football season ended with Manchester United 4th and Manchester City 15th in the league. 22-year-old up-and-coming United striker Mark Hughes was sold to Barcelona for £2,000,000. United were still the top club in England in terms of average home attendance (46,321), ahead of Liverpool (35,271), Everton (32,227) and Man City (24,229).
On 16th June 1986, the Smiths released their third album 'The Queen Is Dead' which reached number 2 and contained the track '
There Is A Light That Never Goes Out.
' On 22nd June, England played Argentina in the quarter-final of the World Cup in Mexico City. The game is memorable for two goals scored by Diego Maradona in quick succession: one was later labelled 'the hand of God' and the other 'the goal of the century.' England lost 2-1.
Simply Red achieved a number 1 in the US with a re-worked version of '
Holding Back the Years
' on 12th July.
On 18th July, Manchester celebrated the tenth anniversary of the Sex Pistols' gigs at the Lesser Free Trade Hall with a 'Festival of the Tenth Summer' all-day concert at the G-Mex featuring the Fall, the Smiths, New Order, A Certain Ratio, Pete Shelley/Buzzcocks and John Cooper Clarke.
On 8th August,
a cross-channel Ferry was forced to turn back to Harwich
after Manchester United and West Ham fans were involved in a mass brawl, which again brought football hooliganism under the spotlight. On 29th September, New Order released '
Bizarre Love Triangle.
'
On 27th October 1986, the London Stock Exchange re-opened after having been computerised and opened up to foreign investors. The financial 'big bang' ushered in a new era of deregulated capitalism in which some people would become incredibly rich and market forces would increasingly be able to operate free of political control. On 6th November, with Manchester United second from bottom in the league, manager Ron Atkinson was sacked. His replacement, 34-year-old Alex Ferguson, had won the Cup Winners' Cup with Aberdeen in 1983. In April 1987 Happy Mondays released their debut album 'Squirrel and G-Man Twenty Four Hour Party People Plastic Face Carnt Smile (White Out)' on Factory Records, with its opening track 'Kuff Dam.' The Smiths released 'Sheila Take A Bow' on 13th April which was their joint most successful single (reaching number 10, the same position as 'Heaven Knows...' three years earlier).
Manchester United ended their first season under Alex Ferguson 11th in the table as Manchester City were relegated after just two seasons in the top flight. United's average home attendance was now 50,594, still the best in England, well ahead of second-place Liverpool (36,286) and eighth-place City (21,922). The Stone Roses released 'Sally Cinnamon' in May 1987, their second single (their first as a four-piece - around a year after the departure of guitarist Andy Couzens) showed a marked difference from 'So Young.' Bassist Pete Garner left the band in June and was replaced by Mani, who played his first gig in November. Noel Gallagher has said that when he heard 'Sally Cinnamon' for the first time, he what his destiny was. On 11th June, Margaret Thatcher won her third general election with a reduced majority of 102 (down from 144 in 1983), still an impressive victory and a large mandate for further reforms.
On 20th July 1987, New Order released their biggest hit single so far: 'True Faith' reached number 4 in the charts. On 10th August, the Smiths released 'Girlfriend in a Coma' which, with a chart position of 13, was one of their more successful singles. But it was also one of their last - by the time the band released their fourth album 'Strangeways, Here We Come' on 28th September, they had split up. On 18th October, one of Britain's most influential bands (who had released four albums in four years) were the subject of a South Bank Show documentary. On Christmas Day, Coronation Street achieved its peak viewing figures as 26,000,000 (or 28.5m according to one source) tuned in to watch Hilda Ogden leave the Street.
On 15th February 1988, Morrissey released his debut single 'Suedehead' followed by the album 'Viva Hate' on 14th March, which he had been working on with Durutti Column guitarist Vini Reilly. In Alex Ferguson's first full season in charge of Manchester United, they finished second in the league (behind Liverpool who now had 17 league titles, which was ten more than United). Brian McClair had signed from Celtic in July 1987 for £8,500,000 and Steve Bruce had signed from Norwich in December 1987 for £800,000. At the end of the season
Mark Hughes was re-signed from Barcelona for a club record £1,800,000.
Manchester City finished 9th in the Second Division, their lowest league finish since 1965. Liverpool were now the most well-supported club in England in terms of average home attendances (39,582), just ahead of United (39,152). City were twelfth with 19,472. On 30th May, the Stone Roses supported James at an anti-Clause 28 benefit at the International I in Manchester. In the audience that night was a 16-year-old Liam Gallagher, who was inspired to start a band of his own.